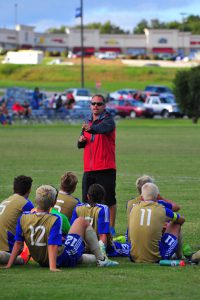 Head Men's Soccer Coach- Benji Grimes     2007-2008, 2016-Present
Originally from Union, MO, Coach Grimes brings a level of experience from a number of different coaching and playing areas. One of his most recent coaching positions was as a volunteer assistant with St. Francis Borgia boys' soccer team which finished 19-4-1 and finished tied for 3rd in the Missouri Class 2 Semifinal, falling to Kansas City O'Hara.
Coach Grimes' playing career includes suiting up four years for Lindenwood University in St. Charles, MO. Prior to playing at Lindenwood, Coach Grimes played at Union High School under Bob Brotherton.  His collegiate academic career finished by completing a bachelor's degree in business administration.
His college coaching career started as an assistant coach for the Lindenwood University Lions in 2004 which finished as NAIA National Champions under Coach Carl Hutter.
During a two year stint of coaching previously as the head coach at East Central College in the 2007 and 2008 seasons Coach Grimes had two winning seasons finishing 8-7-5 and 17-5-1 respectively. In 2008, the team won the MCCAC Conference title beating Jefferson College, St. Louis Community College Florissant Valley, and St. Louis Community College Forest Park all twice and splitting games with St. Louis Community College-Meramec. In this stretch run, Coach Grimes had eight players named to the NJCAA All-Region teams, ten MCCAC All-Conference players and two NJCAA All-Americans.
Coach Grimes has coached NJCAA All-Americans in both stints of his tenure at East Central College. In his first go around with the Falcons, he coached NJCAA All-Americans in Seymour Williams and Nickardo Blake.  Williams continued his playing career at Lindenwood University while Blake played at the University of Connecticut for two years and was selected by Toronto FC in the MLS Superdraft.  Blake along with ECC and UConn teammate Lionel Brown played professionally in the NASL for the Ft. Lauderdale Strikers. While at the helm of the Falcons the second time, Jacob Moore was named an NJCAA 2nd Team All-American.
"Coach Grimes is a student of the game and has the communication and leadership skills to guide the Falcons to prominence in the Missouri Community College Athletic Conference and NJCAA Region 16," states ECC Athletic Director Jay Mehrhoff.  "Coach Grimes knows how to recruit and put together a squad capable of winning championships."
ECC Coaching Record
2017                              12-6-1
2016                              10-5-1
2008                             17-5-1
2007                               8-7-5
Totals                        47-23-8