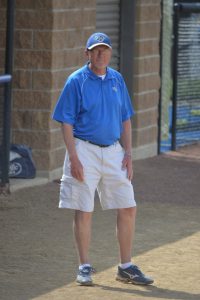 Head Softball Coach Brad Wallach         2008-Present
Coach Brad Wallach has found the winning formula to get the ECC Women's Softball program heading in the right direction. His teams have won four of the past five NJCAA Region 16 Championships and have made two appearances in the NJCAA National Tournament. Coach Wallach was named NJCAA Region 16 DII Coach of the Year 2012, 2013, 2014, and 2015. He was also named NJCAA District Coach of the Year in 2012 and 2014.
During his time as the skipper for the Falcons, the team has collected over 200 victories and a number of his players have received honors. Shelby Friend was named an NJCAA 2nd Team All-American for the Falcons in 2016, which marks the first NJCAA All-American under the tutelage of Coach Wallach. The team has had over 20 NJCAA recognized student athletes for academic excellence as well as over 30 all-region and all-conference selections.
Coach Wallach received his undergraduate degree in secondary education from Northwest Missouri State University in Maryville, MO. He graduated with a master's in secondary education later while teaching and coaching at the high school level from the University of Missouri-St. Louis.
A successful interscholastic coach and teacher at Eureka High School, Caoch Wallach's tenure spanned over 27 years, where he won over 350 games as head softball coach along with seven conference and three district titles. During his 24 year tenure at the helm of the Wildcat softball program he had 32 St. Louis Post-Dispatch All-Metro selections, two St. Louis All-Metro Players of the Year, one Missouri Gatorade Player of the Year and 15 All-State players. Coach Wallach was named Coach of the Year in the Suburban South Conference seven times. Under his guidance, Eureka High School softball teams finished 3rd and 4th in state.
Coach Wallach coached his own daughter, Melanie, who was named St. Louis Metro player of the Year in 1999. She played collegiately at Kansas University and has since followed in her father's footsteps as a high school softball coach. Her team, Jefferson R-7 High School, finished 3rd in the Missouri 3A State Championship in 2016.
Coach Wallach has three grown children: Jessica Nitsch, Matthew Wallach and Melanie Rouggly along with six grandchildren: Lillian and Ella Nitsch, Bailey and Bryar Rouggly, Abigail and Sheamus Wallach.
| | | | |
| --- | --- | --- | --- |
| Year | Wins | Losses | Team Achievements |
| 2017 | 23 | 22 | |
| 2016 | 28 | 22 | |
| 2015 | 31 | 25 | NJCAA Region Champions |
| 2014 | 32 | 22 | NJCAA Region Champions, District O Champions, NJCAA Tournament |
| 2013 | 21 | 16 | NJCAA Region Champions |
| 2012 | 28 | 32 | NJCAA Region Champions, District O Champions, NJCAA Tournament |
| 2011 | 21 | 22 | |
| 2010 | 20 | 23 | |
| 2009 | 22 | 26 | |
| Totals | 226 | 210 | |