The Falcons (19-12) traveled to Champaign, IL for the Parkland Tournament and faced NJCAA #1 Parkland College, Sauk Valley College, Illinois Valley College and Carl Sandburg College. A successful weekend had ECC going 2-2 with wins over Illinois Valley and Carl Sandburg. In the first victory over Illinois Valley, the Falcons were paced offensively with 13 kills from McKenzie Struckhoff and 12 from Liz Mattli.   The back side of the court was controlled by Kayla Borcherding with a season match high 43 digs. ECC won the match in the fifth set by scores of 25-9, 20-25, 25-15, 20-25, and 15-12.
The second win came against Carl Sandburg as the Falcons took control and won three sets to one by a score line of 25-22, 21-25, 25-16, and 25-21. Cameron Hackman led the team in kills registering nine in the match. Kayla Borcherding and Grace Goedde were the defensive anchors on the court as they recorded 22 and 13 digs a piece. Mackenzy Vedder collected 27 assists as the Falcons landed another victory in the tournament.
The regular seasons ends with a trip to MCC-Longview for a preview of what could be the final in the upcoming Region 16/ District O championship being held this coming weekend at St. Louis Community College-Meramec.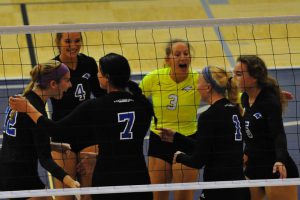 Falcon Celebration After Point
Photo by Bill Battle, Washington Missourian