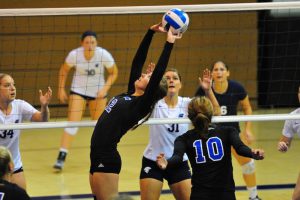 12-5-2016
Union, MO – East Central College sophomore setter, Mackenzy Vedder, was named an NJCAA Division II Women's Volleyball Honorable Mention All-American for 2016. Vedder has been the assist provider for two winning seasons in a row for the Falcons. While captaining the ECC squad, the Falcons put together a 44-34 record in two seasons combined with help from Vedder.
As a setter, Vedder's primary responsibility has been to set the offense into motion. Her single season assist total this fall at 984 ranks her #4 overall in the ECC record books. The two years she has spent at East Central College has put her #3 all-time in assists for a career with 1,906. During her freshman year, Vedder was named 2nd Team All-Region, but as a sophomore, she received 1st Team All-Region and 1st Team All-Conference honors. The Falcons finished the 2016 campaign as NJCAA Region 16 runner-ups to MCC-Longview.
Vedder attended New Haven High School along with her Falcon teammates Kayla Borcherding and Trista Kormeier. The trio were members of the 2014 State Final Four team with the Shamrocks. A great run with her good friends and teammates will end as the three look to attend different universities next fall. Vedder plans on transferring to Missouri S & T to complete her degree in engineering. She also hopes to continue playing the sport she loves at the four year level, but studying comes first as she prioritizes her future plans.