The Falcons (2-4) were able to pick up their first NJCAA Region 16 victory of the season with a 3-0 game result over the Metropolitan Community College Kansas City Wolves on Sept. 10. A team starved for a positive outcome worked hard to keep the Wolves off the scoreboard in the rain and finished with three goals of their own.
The sophomores found the net for the Falcons as goals came from Miguel Gonzalez, Jay Yule and Mitchell Foley. Foley could have dialed up a few more as he had other shots ring off the post. Coach Joe Benninger was pleased with the teams effort as Kaden Marsh and Mario Vaca Pereira recorded a combined shutout for the Falcons.
The much needed win comes at the heels of a well played game against Jefferson College earlier in the week, where the Falcons just came up short 1-0. East Central looks to return to the pitch on the road with upcoming games against Jefferson College and Mineral Area College over the next week.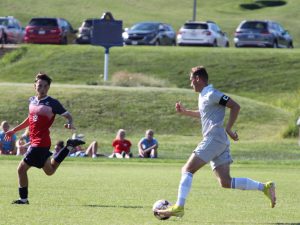 Mitchell Foley