The ECC Baseball Falcons (16-19) were able to sing a few lines of  'Celebration' with their second straight, walk-off in a 7-6 victory over the St. Charles Community College Cougars on Sophomore Day. Excitement and good times were provided in the bottom of the seventh inning when Trey Orman knocked in the game winning run again St. Charles with bases loaded. Orman had 3 RBI for the game on two hits.
As the Falcons found themselves trailing 2-0 in the bottom of the fourth inning, the runs started coming as ECC scored three runs to take a 3-2 lead.
Hayden Steelman got the win for the Falcons striking out three batters and only allowing two runs.  Garret Wilson started the game for ECC striking out four batters, going five innings.
As the game drew closer in the later innings, Mario Columbo belted a solo home run to elevate ECC to a 6-4 lead. The Cougars answered back in the top of the sixth tying the game at 6-6 with a two-run shot of their own.
When the Falcons entered the bottom of the seventh inning, heroics were on tap as the Falcons started to load the bases with a hit by pitch, walk and a single. Then Orman provided the excitement in walk-off fashion by knocking in the winning run with a long single to the fence.
We're gonna have a good time tonight, let's celebrate, it's alright!! (Kool & The Gang, 1981)
ECC dropped the second game 10-5 to St. Charles.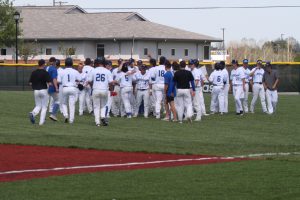 Walk-Off Celebration