The ECC Baseball Falcons (8-12)  found their bats at the right time against the Hesston College Larks to sweep a double header and win 3 out of 4 over the weekend set. As the Falcons headed into the third inning leading 2-0, the team looked confident behind the pitching of Levi Betts and an improved defense.
The Falcons soon found themselves trailing 5-2 heading into the bottom of the sixth inning. The soaring winds had ECC find their mojo when Austin McKim was hit by a pitch, Luciano Terrili walked and Andy Hueste singled. Bases were juiced and  Grant Beck was walked to make the score 5-3. Will Sisk drove in another run with a single to make it 5-4. Then a walk to Trevor Packan set the table again for Tyson Dent to tie the game at five with a sacrifice fly. Seth Shannon came to the plate with two outs and knocked in a three run homer to be the eventual game winning RBI as the Falcons held on to win 9-6. Levi Betts got the win on bump for the Falcons with Shane Kearbey collecting his second save in two days.
A second game on the day was dominated by the Falcons from start to finish in a five inning 14-4 victory. Cris Gonzalez started the game in perfect fashion fanning the first three batters in the game. Gonzalez only gave up seven hits, four runs, and struck out six batters. Grant Beck, Luciano Terrilli, Austin McKim, and Trey Orman all had multiple hits in the game. East Central came out a head on the day with improved hitting and defense.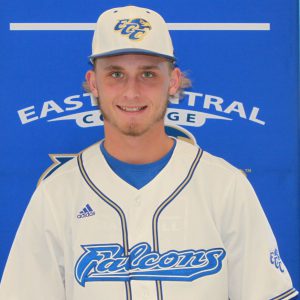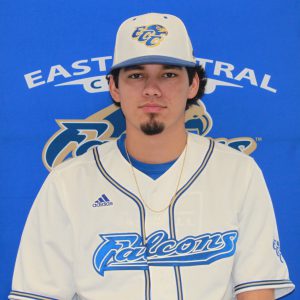 Levi Betts                                             Cristian Gonzalez