The East Central College Athletic Department has lost a part of history with the passing of long-time women's basketball coach, Bill Kackley. Inducted into the East Central College Athletic Hall of Fame in 2011, Kackley was the women's basketball coach at East Central College from 1979-2001 and also served stints as the college athletic director. His main position as the accounting instructor at the college led him to start more opportunities at the college for women and solidified his legacy at the college.
A native of Enterprise, Kansas, Kackley made his way throughout the country serving in the US Army. He then graduated from the University of Kansas and later served as a teacher and coach at the high school level at several schools in Iowa and New York. Eventually, he and his family moved to Washington, Missouri.
Kackley volunteered to start the women's club basketball team in 1979 shortly after being hired as an accounting instructor at East Central College.  Early success of the program came in small increments. The success came primarily through Kackley's determination and passion for the sport. The 1980-81 season was the first, fully funded NJCAA program which set the tone for the future. The following season in 1981-82 the Rebels went 17-7 on the year and after only one more season captured the first of four Midwest Community College Athletic Conference titles in 1983. The Rebels under Coach Kackley's tutelage would go on to an unprecedented run in ECC college history as they won three MCCAC titles in 1991, 1992, and 1993.
Kackley ended his junior college coaching career with 3 NJCAA All-Americans, 3 NJCAA Academic All-Americans and 4 MCCAC titles and was named NJCAA Region 16 Coach of the Year in 1991 and 1993. The team finished runner-ups in the region in 1991. After his last year of coaching the team in 2001 he ended his long career with a 343-208 record.
Bill leaves behind his wife Pat, who was the former financial aid director at East Central College, and his children and grandchildren.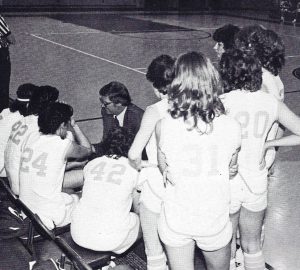 ECC Women's Basketball Head Coach, Bill Kackley 1981