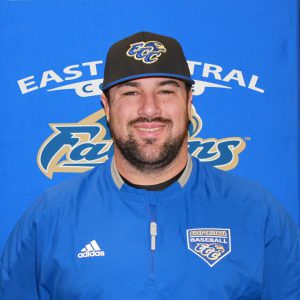 JM Kelly- East Central College Head Baseball Coach
East Central College hired Jacob "JM" Kelly as the new skipper of the Falcons Baseball squad in the spring of 2023. He took the Falcons to a 20-22 record in his first season with big wins coming over NJCAA DI and DII opponents St. Charles, St. Louis, and Three Rivers.
Coach Kelly comes to ECC from Texas A&M Kingsville, a NCAA DII program, where he was as an assistant coach competing in the Lone Star Conference.  
Before coaching at Texas A&M Kingsville, Kelly's coaching pedigree includes assistant coaching roles at Northern Oklahoma-Tonkawa, Carl Albert Junior College, Charleston Southern University, and various summer league teams around the country. He was a head coach for teams in the collegiate summer leagues, such as the Brazos Valley Bombers (Texas Collegiate League), Hastings Sodbusters (Expedition League), and the El Dorado Broncos (Sunflower League). His overall summer league record is 83-55. 
Kelly, originally from Texas, played collegiate baseball at Northern Oklahoma-Tonkawa and Lamar University. He played the corner infield positions and was a catcher for both the Northern Oklahoma –Tonkawa Mavericks and the Lamar University Cardinals. 
Coach Kelly earned a bachelor's degree from Lamar University and a master's degree in sports administration from East Central University in Ada, Okla. 
Coach Kelly has been described as a "dynamic coach" with a background in baseball training from various mentors in the sport. One of the best ways to describe Coach Kelly and his "larger than life" personality is a "player-centric coach who is dedicated to the craft of motivating his players." 
Guiding the team into the spring season will be an exciting start to his career at East Central College with a strong nucleus of returning sophomores.
Team      Year          Record
ECC         2023         20-22