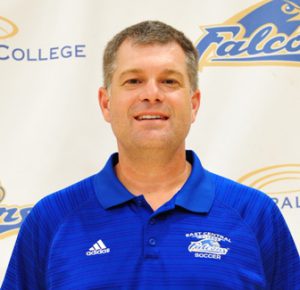 Head Men's Soccer Coach- Jay Mehrhoff      1997- 2000, 2019-Present
Jay Mehrhoff will be taking over the reins of the ECC soccer program as an interim head coach. Mehrhoff will be no stranger to the program heading into his fifth season overall at East Central College. He will become one of the longest tenured head soccer coaches in ECC history along with recent head coach Benji Grimes. Mehrhoff's past stint was in 1997- 2000 when he brought the Rebels / Falcons to the forefront of their most successful run in the early 2000s.
During his previous stint as head coach it was definitely a rebuild of a program. Mehrhoff was able to win back to back NJCAA Region 16 quarterfinal games in 1999 and 2000 defeating STLCC-Forest Park. Three of his former players, Gary Gartner, Mark Fauke and Nicolas Niguero rank in the Top 20 in goals scored in a single season for East Central College.
While serving as athletic director, a number of former ECC soccer players went on to play at four year schools. Two players, Nickardo Blake and Lionel Brown played for the #1 NCAA ranked University of Connecticut Huskies. Other former players were starters at DI, DII and NAIA schools such as Western Michigan, University of Louisville, Williams Woods University, Bethany College, Lindenwood University, Rockhurst University, University of Missouri-St. Louis, University of California- Irvine, Radford University, Oakland University, Hartwick University, Westminster College and Lewis University.
As an athletic director, Mehrhoff has served in this role since 2003. He was twice named the NACDA Junior College Athletic Director of the Year in 2010-11 and 2014-15. In the time span since 2003, the ECC Athletic Department has garnered 14 NJCAA All-Americans and 98 NJCAA Academic All-Americans. The athletic department has also won the prestigious MCCAC All-Academic Award for ten years straight over the period of 2010- 2019.
During his tenure East Central College has won numerous NJCAA Region 16, MCCAC Conference Championships and made NJCAA National Tournament appearances.
NJCAA REGION 16 CHAMPIONS
2015 Women's Softball
2014 Women's Softball
2013 Women's Volleyball
2013 Women's Softball
2012 Women's Volleyball
2012 Women's Softball
2010 Women's Volleyball
2009 Women's Volleyball
2008 Women's Volleyball
2008 Men's Soccer
2007 Women's Softball
2004 Men's Soccer
2003 Men's Soccer
MCCAC CONFERENCE CHAMPIONS
2014 Men's Soccer
2011 Men's Soccer
2010 Women's Volleyball
2008 Men's Soccer
2005 Men's Soccer
NJCAA NATIONAL TOURNAMENTS
2014 Women's Softball- 13th Place
2013 Women's Volleyball-13th Place
2012 Women's Softball- 13th Place
2010 Women's Volleyball-11th Place
2009 Women's Volleyball-13th Place
2008 Women's Volleyball-13th Place
2003 Men's Soccer- 3rd Place
ECC Coaching Record
1997    4-15
1998    5-12
1999    11-11
2000   10-10
2019    0-0-0
Totals   30-48-0