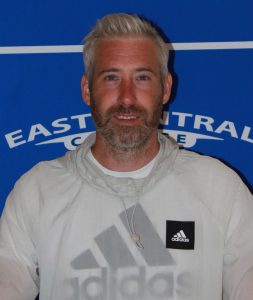 Head Men's & Women's Soccer Coach- Joseph Benninger  2022 – Present
Union, MO (July, 2022)
Joseph Benninger has been named the full time combined men's and women's head soccer coach at the college. After spending two years as an assistant coach under Martin Clayes, Coach Benninger is ready to take the helm leading a talented group of young men and women into the 2023 NJCAA fall campaign for his second year at the helm.
Benninger has been instrumental in helping build the program at East Central College. The women's program has been a tough climb since the 2020 COVID season, but the roster looks ready to compete this year. His hopes are to elevate the women's program to compete for the region title in same way he feels the men's program is ready to compete each and every year.
Coach Benninger has a gift when it comes to recruiting along with a strong  passion for the sport soccer. A native of St. Louis, MO, Benninger played club and high school soccer under the rich traditions in St. Louis. He played high school soccer in St. Louis at DeSmet Jesuit High School. He then traveled to Truman State University where he was a member and captain of the Bulldogs volleyball squad during their most successful run in school history.
Along with his college experience, Benninger has coached and worked in administration in the PDL with the St. Louis Lions. He has also spent time coaching at the youth level as well with St. Louis Scott Gallagher.
Benninger attended Truman State University in Kirksville, MO.
As the 2023 season approaches, Benninger hopes to fill an entire roster for the women's team at East Central College and build the men's team into a contender right again. Time will be of the essence as Coach Benninger works diligently to complete the 2023 schedule and get the Falcons soaring on the pitch.
Men's Record
Team       Year          Record
ECC         2022         9-10-1 *
*denotes Region 16 Champions
Women's Record
Team       Year         Record
ECC         2022        3-13-1