Union, MO – The East Central College Falcon teams are looking to impress the opposition with dominating play on the field in 2018 and also look good in the process. The athletic department has stepped up its game with Adidas being the official uniform manufacturer.
ECC Softball will be sporting new black and blue custom Adidas uniforms this fall. The uniforms will have Falcons across the chest with the ECC Falcon monogram logo on the left sleeve. The number on the front will be a four-inch number located just below the block Falcons text. Coach Brad Wallach dug deep to come up with a classic design for the Falcons to don on the diamond.
ECC Soccer will adorn a new look, blue kit for the first time in four years. The jersey will resemble one first worn by Paris St. Germain with an iconic two color stripe down the middle. ECC will have a collegiate royal jersey with white and gold stripes. The ECC Falcon monogram logo will be sublimated into the jersey on the left chest with a centered four-inch white and gold number in the center of the stripes. The ECC soccer players put together three different designs and agreed by unanimous vote on the new design.
East Central will continue its Adidas sponsorship into the year 2021 and be one of the best outfitted athletic departments using the world renowned brand.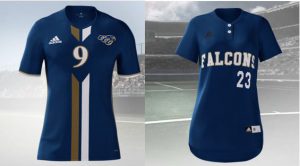 ECC Away Soccer         ECC Away Softball