The sun was shining as the Falcons took to the diamond at home against Kaskaskia College and the big change in the weather was a recipe for a victory. ECC had fallen behind early in the first inning by a score of 5-0. As the defense settled in after the first inning, ECC found themselves trailing 6-2 going into the bottom of the 6th inning. The line-up battled to load up the bases and Katie Gaus decided to empty them with a grand slam shot over the left field fence to tie the game at 6-6. The Falcons tacked on another run to make it 7-6.
In the top of the 7th inning, Kaskaskia had their eyes set on a comeback as they tied up the score 7-7. Then in the bottom of the seventh inning Seeley Friend led off with a single with no outs. A bunt single advanced her to second and then Lauren Grunwaldt launched a walk off double in the right center field gap to give the Falcons a walk-off win.
ECC wasn't as fortunate against Kaskaskia in the second game as they were trailing early and ended up losing 12-4 after 6 innings. The Falcons are hoping to build on the first victory and head into the busy weeks ahead with a number of conference opponents like State Fair, Jefferson and Three Rivers coming up in the schedule.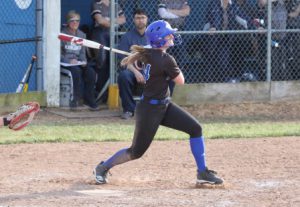 Katie Gaus Launches Grand Slam