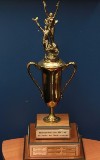 After an unprecedented transition to all on-line classwork and spring seasons that were cancelled due to the pandemic, ECC is still the top performing academic athletic department in the conference with a 3.18 GPA.  This marks eleven straight years 2010-2020, the ECC Athletic Department has posted the highest overall GPA in the conference. The Missouri Community College Athletic Conference honors the highest overall grade point average from the conference with the Harold Oetting Award. Every year it is unchartered territory with the amount of times ECC has been able to hoist the traveling trophy. A cornerstone to the academic success is the tradition set by the sophomores leading the way for the freshmen to see the path to academic success.
True dedication to academics by the student athletes along with support provided from numerous areas on campus have been key factors to this success.  A number of student athletes have received NJCAA Academic honors with 17 student athletes receiving awards from the NJCAA with a 3.6 grade point average or higher for the 2019-2020 academic year.
"Our athletic department achievements may not have had some of the championship results this past year, but our student athletes will be winners in the future. Our student athletes transfer to four year schools, graduate and successfully enter the workforce. Athletics are important for teaching life lessons and our student athletes gain an extra step to college completion after attending ECC," Dr. Jay Mehrhoff, ECC Athletic Director.
NJCAA Academic All- American Honors
(First Team 4.0 GPA, Second Team 3.8 GPA – 3.99 GPA, Third Team 3.6 GPA – 3.79 GPA)
Student athletes on this list also received Academic All-Region and Academic All-Conference Honors.
Name                                 Sport                       NJCAA Academic Team
Kaylee Abney                        Softball                   First Team
Makayla Bevfoden              Volleyball               First Team
Gary Dunne                         Soccer                      First Team
Mallory Feldewerth            Softball                   First Team
Arman Kovac                        Soccer                     First Team
Donald Meyer                      Soccer                     First Team
Nicole Roper                         Volleyball              First Team
Leonard Sowa                       Soccer                    First Team
Katie Gaus                             Softball                   Second Team
Danielle Kimminau              Softball                  Second Team
Lily Warrick                           Volleyball              Second Team
Guy Baskerville                     Soccer                    Second Team
Kaylyn McKee                      Softball                  Second Team
Stephen Akot                        Soccer                    Third Team
Flavio Santi                           Soccer                    Third Team
Maya Street                          Softball                   Third Team
Leslee Weddle                      Softball                   Third Team
ACADEMIC ALL-REGION
(3.25 GPA or higher, includes Academic All-Conference)
Soccer: Jacob Buhr, Tanner Graef
Volleyball: Sophie Parsons, Kaley Roper, Samantha Staab, Mariah Vahlkamp
Softball: Mackenzie Altenthal, Jenna Crider, Kaili Edler, Kristyn England, Jordan Owens
ACADEMIC ALL-CONFERENCE
(3.0 GPA or higher)
Softball: Sierra Voiles, Madelyn Webb
Volleyball: Macey Morehead