The Falcons (11-17) split a double header with St. Charles Community College yesterday by scores of 16-4 in the win and 12-11 in the loss. Despite putting up a total of 27 runs combined, the Falcons couldn't secure the second win with a rally in the top of the seventh inning.
In the first game, things were going good for the Falcons as ECC put up big numbers in the 3rd inning after trailing 2-0.  A nine run third inning put the ECC in the lead for good, followed up by another productive inning in the fourth with six more runs. Kori Fiedler led the hit parade as she totaled four hits with a triple and two others being doubles and three RBI. Seeley Friend and Marissa Boyd were also hitting the ball hard as they both collected 3 RBI on multiple hits.  From the circle, Maya Street collected the win by only allowing four runs and striking out four batters.
Mallory Feldewerth, Katie Gaus and Kori Fiedler all had multiple hits in the second game, but it just wasn't enough to squeak out the win for the Falcons who fell 12-11 in the second game.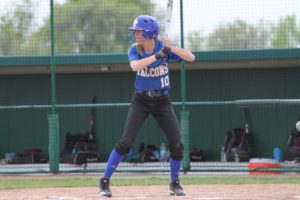 Sophomore 1B, Kori Fiedler