East Central College graduate, Umoh Ufot, is tearing up the ranks of NCAA DII men's soccer with the No. 14 Rockhurst University Hawks. Ufot, a native of London, England, showed his scoring prowess last season as he racked up 17 goals in his sophomore season for the Falcons at the NJCAA level. He scored an incredible goal against Lindenwood University by dribbling past five players and finding the back of the net for the second time in the match. He leads Rockhurst in scoring with 4 goals early in the season and two of them are game winners.
Video link to two Umoh Ufot goals for Rockhurst University:
https://rockhursthawks.com/news/2017/9/5/mens-soccer-no-14-hawks-breeze-past-lindenwood-4-0.aspx?path=msoc
Ufot was tied for goals scored with ECC teammate Jacob Moore (Ashland, MO) last year, who is now playing for Oakland University in Michigan at the NCAA DI level. Moore collected his first goal for the Grizzlies against Incarnate Word in a 2-1 loss. Moore has started four of six games for Oakland so far this season.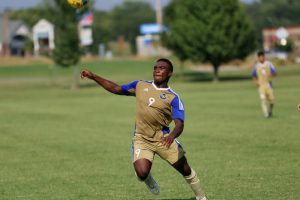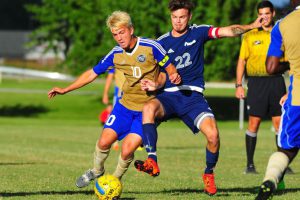 Umoh Ufot, 2017 ECC Alumnus                                         Jacob Moore, 2017 ECC Alumnus