It was a tight match from start to finish with the ECC Falcons (8-9-1) finding a way to keep their winning streak alive claiming the 2022 NJCAA Region 16 DII Men's Championship 1-0 over St. Louis Community College. The Falcons' game plan was to score first and hold out the opposition. ECC played well from the first whistle and got an early chance in the front of the net as Julio Gonzalez put a pass into the box and Jay Yule banged home the only goal of the match in the 13th minute.
ECC had a few more scoring chances with Miguel Gonzalez and Mitchell Foley putting quality shots on the net, but both were stopped by the STLCC Archers' goalkeeper. Yule had the next best chance of the match for the Falcons as he directed a cross off his head on goal and the STLCC keeper made a finger tip save to push the ball just off the crossbar.
Then in the second half, the Archers turned up the pressure on the Falcons and ECC kept the opposition at bay until a penalty kick was awarded in the 60th minute. The Archers striker hit the ball wide on the PK which brought life back into the ECC defense. Despite being out cornered and out possessed in the second half, the defense stood strong in front of ECC goalkeeper Mario Vaca Pereira. Julio Gonzalez, Nelson Pena, Jacob Sauvage and James Baxter played an almost flawless game to help bring home the NJCAA Region 16 Championship hardware.
The Gonzalez brothers, Julio and Miguel were both selected to the NJCAA Region 16 All-Region team for their efforts throughout the season. A tremendous three years of hard work for the Covid sophomores, along with 3rd year player James Baxter, finally paid off as the trio helped bring home a region championship. East Central won NJCAA DI titles in 2001, 2002, 2003, 2004 and 2008. This was the sixth region title for the program.
First year head coach Joseph Benninger was named NJCAA Region 16 Coach of the Year for 2022.
Jack Ridley and Joao Pedro Louzada were named to NJCAA Region 16 2nd Team for the season for their great effort on the pitch.
A strong finish to the season has the Falcons looking for more hardware as their post season hopes continue.
The Falcons will face the Region 2 winner National Park College (Arkansas) in the NJCAA Central District semifinal on Thursday, November 3 11AM at Mineral Area College. The final will be played on Saturday, November 5 at 1PM with a chance to earn the automatic birth to the NJCAA National Tournament being held in Tucson, AZ November 14-18.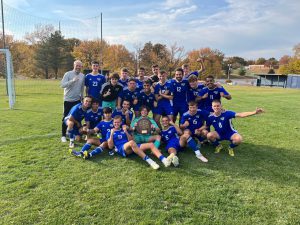 2022 NJCAA Region 16 DII Champions