A busy weekend had ECC play three home matches in volleyball coming up on the winning side twice. The Falcons (17-11) took down the Rend Lake Warriors on Friday and turned around and beat the Lindenwood University- Belleville Lynx on Saturday. ECC dropped the early Saturday match against Missouri Baptist University JV.
A jam packed volleyball weekend had ECC battling to stay in the match against Missouri Baptist early on Saturday morning, but the Falcons leads and rallies fell short. The Falcons were able to manage one set win and stayed close in the other sets and fell 19-25, 25-14, 22-25, 21-25.
The next match went much better as the Falcons downed the Lynx 25-22, 27-25, 25-21 in three straight sets. The Falcons had two offensive bright spots as sophomore Jessica Kelly and freshman Symnatha Fredrick were able to collect 11 kills each in the match. The overall team defense was good as Kaley Roper continued to be the defensive stalwart recording 29 digs in the match. She has been in the NJCAA DII Volleyball top 20 for digs throughout most of the season. Her twin sister Nicole led the team with 15 assists. Janice Steacy also added in the assist department with 11 of her own.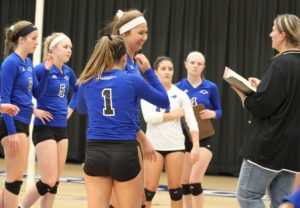 Falcons Celebrate After Scoring Point