The Falcons, now 6-3 on the season, traveled north of the border over the Labor Day weekend to take on several team from Iowa in the Jimmy John's Invitational at Southeastern Iowa Community College in Burlington, IA. It made sense for the Falcons to checkout the talent level at Southeastern, which is the closest Iowa community college to the eastern side of Missouri prior to possibly facing opponents in the new NJCAA district playoff format. The Falcons did face one non-Iowa team in Nassau Community College from New York state. The Falcons were able to make quick work of the Lions and tame them in three straight sets by scores 25-14, 25-22, 25-19.
The Falcons had one loss the first day against North Iowa Area Community College, but rallied in the early morning to knock off the host institution Southeastern Community College in four sets with scores of 25-16, 25-13, 25-27, 25-17. The Falcons only faltered in a tight, third game against the Blackhawks falling by two with extra points needed to hold off a surging Falcon squad. ECC then made a statement and finished the match off shortly after dropping one set. The fourth match of the weekend was against Hawkeye Community College where ECC was out worked by scores of 18-25,16-25 and 14-25.
Coach Lisa Mathes-Peters brought her team home to roost after a trip to her native state of Iowa. The Falcons will take on the Grizzlies of Missouri State University-West Plains this week.  MSU-WP will make the trek up interstate 44 to be the first Missouri Community College Athletic Conference opponent of the season on Wednesday, Sept. 5 at 6:30p.m.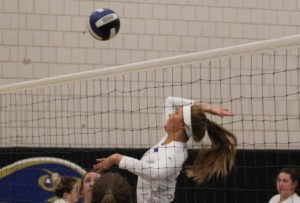 ECC Freshman Samantha Staab