ECC women's soccer (2-9) ended a respectable first season with a 2-0 loss to St. Charles Community College in the first round of the NJCAA Region 16 Tournament. The Falcons knocked off the Cougars earlier in the season for their first win in program history at the St. Louis Soccer Park in April. ECC finished the season 2-9, but the positives that came from building the program from scratch in one of the most difficult times in recent history is a testament to the team and coaches' perseverance to keep working through any obstacles thrown their way.
The Falcons took the Cougars into halftime with a 0-0 score. Hannah Olive made some key saves to keep ECC in the match. ECC was outshot in the contest 20-2 and it wouldn't have been such a close match without some of the strong defensive play in front of Hannah Olive by defenders McKenzie Townley, Destiny Boehm and Samantha Starling. The core of the defense kept ECC in every game this season with one exception against State Fair in their second match-up of the year.
The first year of the women's soccer program at East Central College has to measured in terms of success in a couple different ways. One, the season actually was able to happen with all of the  craziness surrounding the Covid-19 Pandemic. Two, the team was able to play the majority of the abbreviated season with a competitive drive in each game taking every team to distance in close contests only losing by one or two goals. Despite only playing with sometimes 11 and other times 12 players throughout the season, the Falcons were able to manage to collect two victories in the program's inaugural campaign.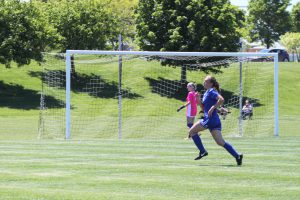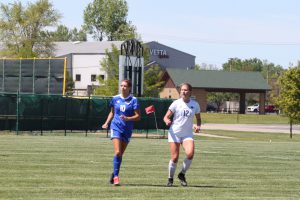 McKenzie Townley Races Back to Defend                                    Zoe Gaszak Looks to Receive Pass