The East Central College women's soccer team took to the pitch for the first time in the history of the program with an exhibition match against Mineral Area. The teams were both brand new and trying to field squads to compete in the spring of 2021 due to a delayed NJCAA start.  Both teams were low in numbers, but played above levels of expectation. Mineral Area College was able to strike first as they took an early 1-0 lead on a long shot. The Falcons were not giving up in a shortened game due to the heat and the number of players. Chances went both ways, but the Falcons just couldn't find the target in the beginning of the match. Two more goals had the Cardinals in control of the match, but the Falcons kept knocking on the door and finally got the answer in the final minutes of the match. Sophomore midfielder Jordan Owens scored the first goal in the East Central College history for women's soccer to end the match with a 3-1 score.
The defensive play from a trio of Union High School players, Destinee Hartmann, Destiny Boehm and Samantha Starling stood out as a positive on the day for the Falcons. On the offensive side of the pitch, Zoe Gasak and Abby Layton helped create some scoring opportunities as the team tries to find its identity. A good look into the lineup for the first game for the program will have Coach Martin Clayes focusing on fitness through the remainder of this exhibition season.
A good crowd was on hand to witness the first match for the Falcons and hopefully the spring will see the Falcons on the winning side of some of their matches.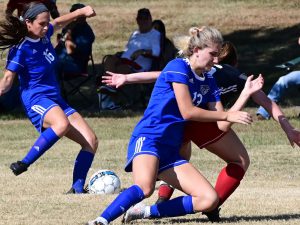 Jordan Owens Scores Falcon's First Goal Ever