One of the best starts to a season has the Falcons flying high with a 9-1 record after sweeping a double header over the Central Methodist JV Eagles by scores of 5-4 and 7-5 with an extraordinary hitting display by sophomore Eden Henry. Henry was the catalyst from the plate as well as the circle as she collected the victory. She had a two run homer in the first game to the lead the Falcons to a victory 5-4 and helped herself to a 5-0 record on the season.
As the second game unfolded, the Falcons found themselves trailing 5-0 in the fifth inning. This is when the fortitude of the team had to be checked and resiliency became the theme as Henry matched her first game two run homer in the sixth inning. Still down 5-3 in the 7th inning, Henry found herself at the plate with bases loaded so she launched a grand slam to propel the Falcons to a 7-5 win. Abby Ray was able to get the win pitching for ECC.
The Falcons will continue their spring break caravan as the face State Fair and Missouri Valley over the weekend. The marathon of seven double headers in seven days as the Falcons come home to face Culver Stockton JV and St. Louis.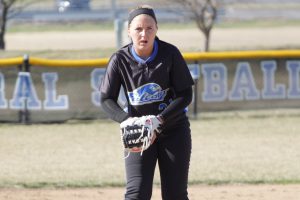 Eden Henry Pitching for the Falcons