The ECC Falcons (15-18) were able to take one from the Moberly Area College Greyhounds as they split a home double header, dropping the first game 4-2 and winning the second 8-7 in walk-off fashion.
ECC has been trying to get the momentum back on their side in three game weekend series throughout the season. The second game had plenty of highs and lows in momentum as the Falcons saw themselves staring at a 3-0 deficit in the third inning of the second game. Luciano Terrilli went 3 for 4 and got the hit parade started for the Falcons as he drove in four runs. He had RBI in the 3rd, 7th and 9th innings. Trey Orman, Sam Sisk, Landen Roberts and DeVon Jennings all had multiple hits in the game.
Billy Underwood got the win for the Falcons pitching 4 innings. Brayden Noland, Hayden Steelman, Zach Stenger and Trey Orman all came in the game for the Falcons. Underwood, Noland and Steelman registered 2 strikeouts each during their time on the mound.
ECC was leading 5-4 going in the top of the ninth inning, then the Greyhounds scored three runs to take a 7-5 advantage. Then the East Central College hit parade started working through the MACC relief pitchers and ECC didn't stop scoring until the victory was secured.
Orman's third hit was his biggest of the day with bases loaded in the bottom of the ninth and one out. He took the first pitch and smacked a game winning single in walk-off fashion. ECC comes back tomorrow for the rubber game in the three game weekend series looking to secure another victory.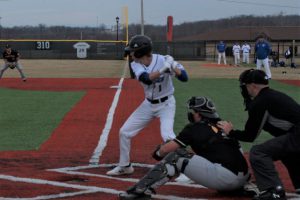 Terrilli Batting