The Falcons (7-1) were able to take one game in a double header against Lindenwood-Belleville JV by a score of 8-6. ECC had a tough outing in the next game despite scoring eight runs and dropped the game 12-8.
As the Falcons started the game by adding one run in the first inning to match the Bobcats the score was tied at 1-1. Then the potent Falcon offense started with runs in the next four innings including two in the 3rd, 4th and 5th innings. Eden Henry and Jamie Kluba both had RBI hits to start the scoring sequence. Jensen Crenshaw had two hits and scored twice. Henry improved her record to 3-0 on the season with the victory pitching for the Falcons.
The second game wasn't the best defensive game for the Falcons, despite being up 3-0 on an early Monica Kelley two run homer. The Falcons gave up six runs in the 3rd inning. The team mounted a comeback in the 4th and 5th innings to go up 7-6. They faltered again as the Bobcats put the game out of reach with a three run homer. The Falcons finished the game with four errors which proved costly as ECC lost their first game 12-8 in the young season.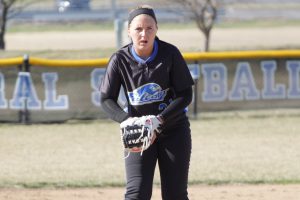 Eden Henry Pitching for the ECC