The ECC Falcons (8-3) were able to glide through the first round of the NJCAA Region 16 Tournament with a 5-0 win over Metropolitan Community College Kansas City in an away match. The first goal came from the Falcons as Joe McInnes headed a shot off the cross bar and Julio Gonzalez put the rebound in with a header of his own for the eventual game winner.  Joe McInnes came back and this time he didn't hit the cross bar to elevate ECC to a 2-0 lead with a nice outside finishing shot right before halftime. The Wolves were awarded a penalty kick with about two minutes remaining in the half. Bailey Hoehne, in goal for the Falcons, guessed correctly with his dive and might have got a finger on the ball as it hit the post and went wide. Hoehne along with his defense of Guy Baskerville, Tanner Graef, Julio Gonzalez and Sam Gentges kept the Wolves out of the net for the rest of the game.
The second half began with ECC putting the pedal down to full throttle as Sam Ennis cracked a screamer of a shot past the MCCKC keeper. Julio Gonzalez wasn't finished scoring as he headed in the fourth goal of the match on assist from his older brother Miguel Gonzalez.  Rounding out the scoring was Stephen Akot connecting for the fifth goal of the match after had a couple of close chances previously.
ECC will face NJCAA DII #12 St. Charles Community College on Saturday in the Region 16 semifinal at 2PM. The two teams split the regular season games with SCCC winning the first 2-0 and ECC winning the second 2-1. The winner of this match will then play in the region final against the winner of St. Louis Community College and State Fair Community College.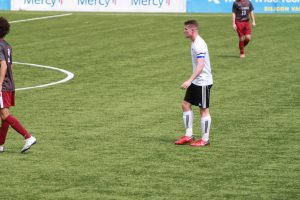 ECC Sophomore Captain-Guy Baskerville