ECC Volleyball (11-5) came out on top of some close matches at the Southwestern Illinois Tournament over the weekend. The Falcons knocked off the tournament host SWIC in five sets: 20-25, 18-25, 25-23, 29-27 and 15-9. This was the biggest comeback of the season for the Falcons who found themselves trailing by two sets and put together a gritty three sets in a row to take the match. Samantha Staab and Symantha Fredrick were hitting well in this match both collecting 14 kills each.
ECC also won two more matches over Labette Community College and Milliken University JV. The Falcons took over early by scores of 25-14, 25-20, 25-9 in a three set victory over Milliken University JV. Another win came at the expense of the Labette Cardinals. A big victory in three sets had ECC scoring when it counted the most at the end of each set as the Falcons won 25-17, 25-22, 30-28.
The Falcons dropped one match to Kaskaskia College, an NJCAA Division I opponent, by close scores. The Falcons will have a chance to avenge this lose in the coming weekend as they face Kaskaskia again at a tournament hosted by St. Louis Community College.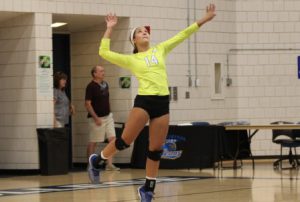 ECC Freshman Kaley Roper