ECC Softball (22-13-1) ended the regular season by making a statement in the region with a double header sweep over St. Louis Community College by scores of 5-2 and 3-1. The Falcons were led defensively in both games by Haley Schulte going the distance and improving her overall record to 14-4 for the regular season.
The offense in the first game was provided by different team members, but Kristyn England's two run homer in the 4th inning elevated ECC to a 2-1 lead and brought confidence back in the Falcon's bats. Nikki Abbott and Ashley Damazyn drove in runs to break a 2-2 tie in the sixth inning as ECC cruised on to victory.
The second game on the slate was even tighter as ECC found themselves trailing 1-0 again. Ashleigh Damazyn opened the scoring for the Falcons as she drove in a run with a single.  This hit tied the game at one a piece after four innings. Damazyn struck again in the sixth inning with a 2 RBI single to seal the deal and bring home the sweep of the Archers.
This double header sweep puts ECC in the driver's seat as they were able to secure the #1 seed in the NJCAA Region 16 DII softball tournament being held this weekend in Union, MO. The Falcons were able to win 7 of 8 games over region opponents. St. Louis Community College will be the #2 seed facing Mineral Area College #3 in the first game of the tournament at 2PM on Friday, May 7.  The winner will match up with ECC at 4PM in the next game.  The schedule for the second day Saturday, May 8  will be at 11AM, 1PM and 3PM. The 3PM game is an if needed game in the double elimination tournament.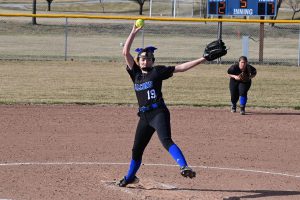 Haley Schulte Picks Up Two Wins Against STLCC