A rain soaked weekend forced the Falcons to find an alternative venue to get a home game in against the Lincolnland Community College Loggers. ECC, now 4-1, found the turf field at St. Francis Borgia to be a friendly confine as the Falcons used their own buzz saw to take down the Loggers by a score of 6-0. Leonard Sowa started off the scoring in the 23rd minute with an assist from Rudy Gonzalez. Sowa jumped on another through pass from Arman Kovac 3 minutes later to make the score 2-0 on a breakaway goal before halftime.
Coach Grimes felt the team needed a spark in the second half and he received it as Kovac connected on a combination pass from Gabriel Pires just 2 minutes into the second half. The Falcons were able to keep the goal scoring trend on their side and opened up the flood gates. Juan Bolivar was subbed on and scored quickly with a repossession in the box from the hard working Gonzalez. Billy Thompson was able to get into the mix with the 5th goal as he received a long pass and chipped it over the goalkeeper's head. The final goal was just icing on the cake as Tanner Harris flicked a long looping pass to Gary Dunne who made a long run from the back to lift another shot over the Lincolnland keeper's head.
The shutout included efforts in the net from ECC goalkeepers, Lewis Brass and Gregorio Gros Jacques. The two combined to stop only three shots from the opposing Loggers.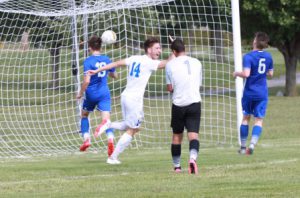 ECC Freshman Leonard Sowa Celebrates Goal