The East Central College Baseball Falcons (20-24) won the first piece of hardware in over 20 years for the reinstated program. The Falcons took down the North Central Missouri College Pirates in two games of a best of three series by scores 11-1 after five innings and 5-3 in nine innings to win the NJCAA Region 16 DII Baseball title.
The first game was led by starting pitcher Alfred Ulloa going the distance from the mound pitching all five innings allowing only four hits and one run while striking out seven. Ulloa only had a few jams to get himself out of as the team looked good defensively only committing one error.
Grant Beck led the team with three RBI collecting all of them when he hit a bases juiced double to elevate the Falcons to a 5-0 lead in the bottom of the fourth inning. This kept the line moving as the Falcons batted through the order and made it 7-0 going into the fifth inning. Patrick Dale, Grant Beck, Logan Baker and Luciano Terrilli all collected two hits in the first game.
The second game was Hudson Stark's turn to pitch and he did well going six and third innings allowing only three runs on six hits striking out eight batters. Cris Gonzalez and Shane Kearbey came in to close out the game for the Falcons in the eighth and ninth innings respectively. Kearbey struck out two in the ninth inning to get the 5-3 win.
Seth Shannon homered in the third inning giving ECC a 2-1 lead. The Falcons extended the lead to 4-1 in the fourth inning on a pass ball with Luciano Terelli scoring.  North Central battled back to score two runs and make the game 4-3. In the seventh inning, Mario Columbo smacked a solo homer to seal the deal with a insurance run at 5-3.
The last and only time the baseball team won a championship was in 2001, when the East Central College Rebels were MCCAC Conference Champions.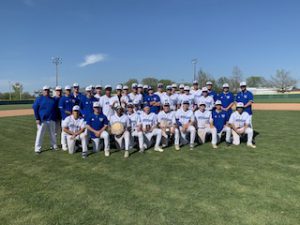 ECC FALCONS- NJCAA REGION 16 DII BASEBALL CHAMPS