A soggy field slowed down the Falcon attack in the beginning of the match against St. Charles Community College. A lackluster performance found ECC trailing 1-0 in the first three minutes on a St. Charles goal. Midway through the first half the Falcons decided to pick up their play and struck for two goals in two minutes as Juan Bolivar and Ralph Joseph connected with the back of the net. The Cougars came back with an equalizer after a miscommunication play in the backfield for the Falcons. After the wake-up call the Falcons decided to put the match away in the second half by scoring four unanswered goals by: Zach Druhe, Juan Bolivar, Billy Thompson and Tanner Harris. The Falcons prevailed 6-2 and improved their record to 7-1.
This start to the season at 7-1 ranks as one of the best starts in ECC soccer history behind 2015 when the Falcons started 9-0 and the other two best starts were when the Rebels (ECC changed nickname to Falcons in 2007) were 7-0 in 1990 and 7-1-1 in 2004.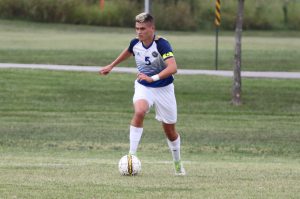 Zach Druhe drives up field for the Falcons. He knocked in a header from a Magnus Andersen cross to for the eventual game winner.