The ECC Baseball Falcons (9-7) were able to overcome four errors in the game to squeak out a win over the North Arkansas College Pioneers in the 9th inning on a Luciano Terrilli two-run homer.
Despite out hitting North Arkansas 11 to 3, the Falcons made the game interesting. Tied at 3-3 in the top of the ninth inning, the Falcons were able to go up by two after Terrilli's homer and hang on allowing only one run in the bottom of the ninth to prevail 5-4.  Shane Kearbey pitched 8 innings striking out a career high 9 batters in the contest and only giving up one earned run. Levi Betts came in relief to get the last two outs.
Trey Orman led the hit parade with three on the day and Austin McKim, Cam Leach, and Terrilli all had two hits each. Ethan Lindemann had one hit and drove in two runs.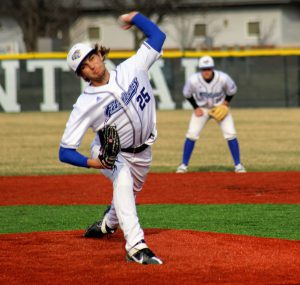 Shane Kearbey Strikes Out Nine Batters