The Falcons may not have had an ideal regular season, but that didn't stop the effort put forth by the team in the NJCAA Region 16 Tournament hosted by St. Louis Community College. A tough first game was marked by 5-4 win against the Mineral Area College Cardinals. As ECC was on top of their game defensively making big plays all over the park, Maya Street kept the Cardinals off the bases most of the game with her pitching. The Falcons found themselves trailing and decided to put the bats to work and ended up winning the first game of the tournament.
In the second game, ECC was ready to face the NJCAA #7 ranked St. Louis Community College Archers and throughout the game they answered the task. After trailing 1-0, the Falcons quickly answered to tie the game at 1-1 heading into the 3rd inning. Madelyn Webb had the Archers off balance at the plate with her outside and off-speed pitching most of the game. The Falcons faltered slightly giving up two runs in the 3rd inning, but they bunkered down and stifled the high powered Archer offense throughout the rest of the game. ECC threatened to tie the game in the top of the sixth inning with bases loaded and two outs, but just couldn't quite drive in runners in scoring position falling by a close 3-1 score.
The third game of the day featured a rematch against Mineral Area College and the Falcons fell behind quickly trailing 8-1. As the Falcons made adjustments the bats came alive. Mallory Feldewerth sent a solo shot over the fence to start to reel the Falcons back into the game. Alyssa Moore sent a laser shot over the fence scoring three to make the game 8-5. It was looking like the offensive surge would come through in the end. The Falcons then let MAC get further ahead in top of the sixth by allowing three more runs.
ECC wasn't finished trailing 11-5. The Falcons added another run when Seeley Friend hit a ball once inch from the top of the fence driving in one runner. ECC had momentum on their side after Friend's big hit even though trailing 11-6 going into the 7th inning. The Falcons didn't go down easy as they scored another three runs to make the game 11-9 with the tying run coming up to the plate. A tough battle ended with the Falcons stranding two runners on base.
The post season surge by the Falcons was some of their best softball played this season.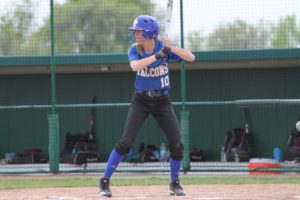 Kori Fieldler