The Falcons (22-20) finished the regular season with a double against the Cottey College Comets. ECC came out flat in the first game and lost 10-1. The second game was a different story as the Falcons tacked on the runs to win 22-2.
A slow beginning and an injury to Ashley Miller who was hit while pitching had the Falcons looking from behind the 4th inning. Jensen Crenshaw had a solo home run shot in the second inning for the lone ECC run in the game.
The team collectively changed their fortunes and began peppering the Comets with a hit parade in the second game. Jensen Crenshaw, Eden Henry and Jamie Kluba respectively launched hits over the fence for home runs. Crenshaw went 3 for 3 with 5 RBI and Kluba went 3 for 4 with 4 RBI to lead the hitting for ECC. Henry picked up the win pitching for the Falcons as she only let up 5 hits in the game with 5 strikeouts.
The split in the only double header of the season with Cottey puts ECC in a tie with Cottey for the #3 seed in the Region 16 Tournament. The seeding will be determined with a flip of the coin by the region director at a later point in time.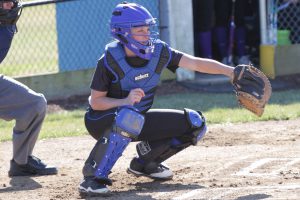 Jensen Crenshaw Behind the Plate