The Falcons (16-18) saved their best for the last home game of the season with a 4-3 win over the St. Charles Community College Cougars. East Central split the double header dropping the first game 12-3 with only a few bright spots as Nicole Truitt launched a two-run homer in the 5th inning to inch back into the shortened, run rule game.
ECC rode the Truitt home run momentum into the second game as bats got hot and the defense was stellar behind great pitching from Taylor Hanger. Hanger pitched a gem of a game allowing only three hits and striking out seven batters. She had the Cougars off-balance at the plate the entire game. The Falcon offense also was humming with Hannah Jarvis as she launched a solo home run to give the Falcons the lead at 2-1. Alexa Smalling, Payton Robinson, and Kylie McDaniel all collected one hit and one RBI a piece to be the difference makers at the plate in the 4-3 victory.
Ending the home, regular season with a win is exactly what the Falcons needed heading into the NJCAA Region 16 Tournament next week. The Falcons have two double headers left in the regular season with seeding implications on the line. ECC faces MSU-West Plains and St. Louis CC and will project to be a #2 or #3 seed in the five-team post season tournament.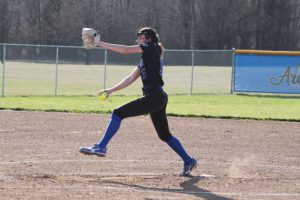 Taylor Hanger Strikes Out Seven in Victory Over St. Charles