It may have been a cold afternoon at East Central College, with wind chills in the 30's, but someone forgot to tell the Falcons their bats couldn't remain hot. The Falcons clobbered Central Methodist University JV 22-9 in the first game of a double header. ECC was led in the RBI department for the game by Samantha White and Meg Barger who both collected 4 RBI on two hits apiece. Kori Fiedler and Alayna Abney followed suit with two hits each and both collected 3 RBI. Another duo collected two hits and 2 RBI as Megan Micke and Marissa Boyd joined the hit parade.
Ashley Miller started as the pitcher of record allowing only 3 runs in 4 innings pitched. Shelby Carr came in relief and was able to get out a few jams giving up 5 runs.
The second game was the exact opposite of the first with a low scoring affair as ECC pitcher Abby Ray led the team to a 2-0 victory. The temperature dropped and the strike zone seemed to grow as Abby Ray fanned five batters in a complete game shutout. She improved her record to 3-0 early in the season. Marissa Boyd had the lone RBI in the game as the Falcons were held to three hits.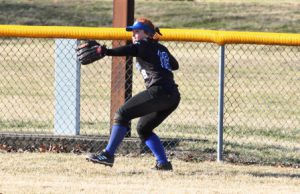 Sam White Makes the Play from Right Field