The Falcons (10-5) started off the last regular season match slow and found themselves trailing Rockhurst University JV 1-0 in the second half with a penalty kick in the 60th min. ECC then trailed 2-0 after missing a second ball off a tackle that popped into space to an ongoing Hawk attacker.
Then ECC woke up and went to work starting to move the ball very well. The ball got headed back by Leonard Sowa off a corner kick to Tanner Harris who stepped up and hit a good left foot volley just at the top of the penalty box to get the Falcons on the board 2-1. ECC started pressing to get the equalizer and let a Rockhurst player in on a breakaway to make it 3-1.
Late in the game the Falcons worked some magic, Juan Bolivar came on in the 75th minute and sent a pass to Arman Kovac into the penalty box on a breakaway in which he was hauled down and Kovac converted the penalty kick. ECC wasn't done as they came right back down and on the flank and Ricardo Pacheco beat the defender on the end line and played a ball to Bolivar who buried the equalizing shot in 87th minute.
Momentum helped ECC win the game. An intercepted ball at half field by Fares Awad set up the game winner to Joel Konteh who took off and beat a defender in the middle of the pitch. As Konteh got free, he rifled a blistering shot from outside the penalty box to beat the Rockhurst goalkeeper for the game winner in the 88th minute.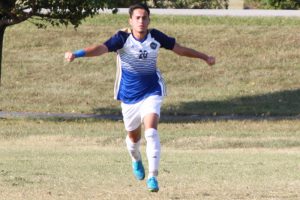 Sophomore Juan Bolivar Collects Goal and Assist