East Central College Softball looks to be in pretty good shape heading into the 2018-19 academic year with a number of top level signees. Coach Brad Wallach spent a lot of time on the recruiting trail to acquire talent from across the eastern part of Missouri. Two signees, Kaylyn McKee and Mallory Feldewerth are coming of a spectacular senior season as their Bowling Green High School softball team captured the Missouri Class 2A State Softball Championship in Springfield, MO. Another recruit, Katelyn Gaus, was able to claim a state title at the 1A level with her Canton High School team.
Maya Street, a multi-position player from Clopton High School, finished her high school career with a trip to the state quarter finals. Rounding out the recruiting class are Makalya Buscher from Fatima High School and Lauren Grunwaldt from Orchard Farm High School. Both were standout seniors on winning high school teams hoping to continue their success at the college level.
After spending the fall working on improving the roster for future years, Coach Wallach felt that this is one of his most talented recruiting classes in recent years. "This recruiting class brings a competitive drive from high caliber high school teams where these players won their districts, sectionals and state championships. This will equate to a talented team at the junior college level," stated Wallach.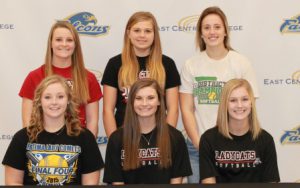 Pictured in Bottom Row (L to R): Makayla Buscher, Kaylyn McKee, Mallory Feldewerth, Top Row (L to R): Katelyn Gaus, Maya Street, Lauren Grunwaldt