A boisterous crowd made "Jam the Gym" an epic night as the Falcons (13-8) took down conference and region foe St. Louis Community College. ECC rode the momentum of a quality first set performance and the loud crowd to a three set sweep of the Archers by scores of 25-20, 26-24 and 25-16. After a tight second set the Falcons found their attack with quick kills in the middle of the court. Sets were flying high as rallies continued between the teams and Janice Steacy led the way with 14 assists. She found duo of Sam and Sym, as both Samantha Staab and Symantha Fredrick collected 8 and 6 kills in the match respectively.
As the team entered the third set, a feeling of confidence had the Falcons looking to end the match with a dominant third set performance. Like each of the previous sets, the Falcons attacked quickly gaining an early led, then let the Archers back in the set before finishing off the set with with a number of strong, defensive rallies behind Kaley Roper, Mariah Vahlkamp and Symantha Fredrick.
A statement was made by the Falcons to keep their NJCAA Region 16 opponents know they are a team to be reckoned with in the post-season. The next match for the Falcons will be the second region opponent in a row as the Falcons head to the other side of the state to take on Metropolitan Community College-Kansas City.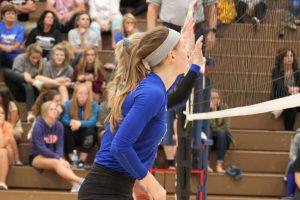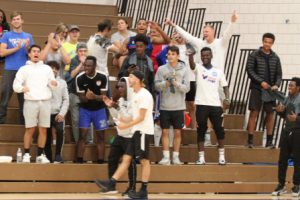 Sophomore Sarah Weiland Prepares Block                                       ECC Crowd Gets Rowdy in Stands