The ECC Softball Falcons were able to climb back to the .500 mark, 7-7 on the season, after a double header sweep of the Culver Stockton University JV Wildcats by scores of 10-5 and 10-2. As the Falcons took the field, the winds were blowing fiercely to the outfield which was a good indicator of a launching pad day for home runs.
After scoring in the first inning, the Falcons were tied at 1-1, then CSU hit two dingers in the second inning to go up 4-2 after two. Then ECC jumped on to the hit parade as players started taking turns with shots over the fence of their own. Tied at five after Mya Hillermann and Grace Moseley sent solo homers over the fence, the game got interesting. Nicole Truitt, 3 for 4, on the day had two doubles and a home run to bring home the victory for the Falcons. Lexi Lewis added to the offense as well.
Kylie McDaniel got the win from the circle coming in to relieve Ryan Stutzmann, who started the game.
Payton Robinson got things started in the bottom of the first inning with a bases loaded double driving in three runs to make the 3-0 in favor of the Falcons. Lexi Lewis had a 2 RBI triple to extend the Falcons lead late in the game and end the game in the 5th inning with an eight-run lead. Mya Hillerman went 2 for 3 with another home run in the second game. Taylor Hanger recorded the win pitching for the Falcons.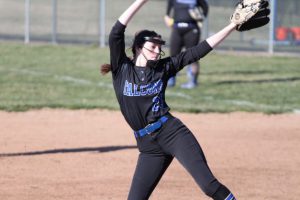 Kylie McDaniel Gets Win From Circle