The ECC men's soccer team (1-1-1) opened up the scoring quickly against the Archers by netting two goals in the first five minutes of the contest. The Falcons put the first tally up on the board with a goal by Joao Pimenta just one minute in as he dribbled down the sideline and struck quickly to stun the Archers. Joe McInnes scored the second goal scored just 4 minutes later into the contest.  McInnes put heavy pressure on an STLCC defender, beat him to the ball and slipped a shot past the keeper.
ECC had a defensive lapse later in the first half as the defense let up two easy goals on breakaways to let the Archers right back into the contest. A resurgence in the play of the Falcons came as James Baxter was able to see success on the flank and get the ball into the box with some crosses. Stephen Akot slammed home a cross for the go ahead goal right before halftime.
Hitting the crossbar or post four times in the contest was a testament to the amount of pressure put on the opposition by the Falcons. Joao Pimenta, Mitchell Foley, Joe McInnes and Scott Peggie all played a little bar music with clanks off of the frame in trying to get the fourth goal. Mitchell Foley found a nice home for the ball in the back of the net in the second half which proved to be the eventual game winner.
Toby Lydon-Gardiner had a few big saves in the end of the contest to secure the 4-3 victory as ECC improved to 1-0 in both the region and conference standings with the win.
Next up will be another tough match against St. Charles with implications in the region and conference as well.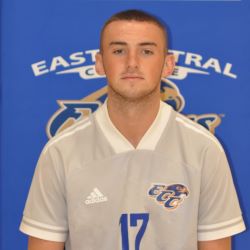 Freshman Mitchell Foley Scores Game Winner