The East Central College Soccer Falcons (2-1-1) were able to knock off NJCAA DII #6 ranked St. Charles CC by a score of 2-1 at home. The Falcons came out with a game plan and left the pitch with a victory after a hard fought region/conference match-up against St. Charles. ECC was in top form as Miguel Gonzalez struck first for the Falcons in the 28th minute with a direct free kick goal into the upper right corner beating NJCAA All-American goalkeeper, Pablo Costa, from St. Charles. The Falcons were energized by the goal and used the momentum to carry them into halftime with a 1-0 lead.
The Falcons started the second half with continued good play as Joao Pimenta was working the flank against the Cougars and put a crossing pass from midfield into the Cougar penalty box to a receiving Joe McInnes. McInnes brought the ball under control and touched it to Stephen Akot for the eventual game winning second goal of the match. The Cougars down 2-0 were not out of the match by any means and kept pressing against the Falcon defense. A solid game defensively only let St. Charles into the game in the 78th minute with a misplayed ball in the back.  The scoring margin became much closer with a 2-1 Falcon lead. ECC defenders Julio Gonzalez, James Baxter, and Chris Tadeo in front of goalkeeper Toby Lydon-Gardiner played excellent in the last 15 minutes withstanding a pressured attack from the Cougars. A much needed victory put ECC over the .500 mark for the first time early in the season.
The Falcons will head to Mineral Area College for their next match-up against the Cardinals in another game with region and conference implications. ECC will need to continue their good play to face a much improved Mineral Area squad in their second year of program existence.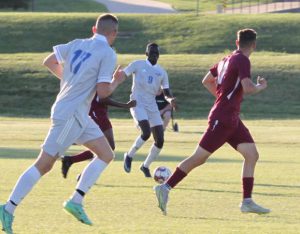 Stephen Akot with Game Winner