As the Falcons fly from their home nest for the rest of the season, they are on a quest to bring home victories. The first step was collecting a three straight set win over the Lewis & Clark Community College Trailblazers in Godfrey, IL. After falling to the Trailblazers in the Falcon Classic to start the season, ECC has rattled off two consecutive wins over Lewis & Clark. A score line of 25-18, 25-15, 25-20 had ECC in command throughout the match.
Big numbers were posted on the attacking side of the net by McKenzie Struckhoff with 12 kills and Jessica Kelly with 10 kills. The setting duo of Janice Steacy and Natalie Green were helping out the attack as both contributed with 20 assists.  Holding off the Trailblazer attack was good defensive play by Grace Goedde registering 24 digs while Struckhoff and Emma Borcherding collected 17 and 14 respectively.
The Falcons have six matches left in the regular season as they face MCC-Longview, MSU-West Plains and head to the Parkland College Tournament to end the regular season in Champaign, IL.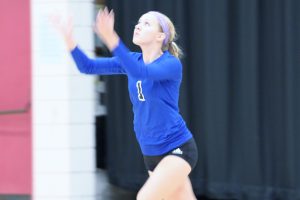 ECC Freshman Lydia Klenke