The Falcons (19-10-1) traveled to western Missouri to take on the Missouri Valley College JV Vikings in a double header match-up. ECC won the first game 12-0 and the second game by a closer margin of 7-5. Kelly Ferguson and Maddie Greco had good days at the plate in the first game both collecting three hits. Lilly Prichard continued her uptick in hitting as she collected two hits and two RBI in the first game.  The trio of Ashley Damazyn, Danielle Kimminau, Kristyn England drove in one run each on the day as well.
Starting in the circle for the Falcons, Haley Schulte was able to pitch the shutout for her 11th win of the season. She struck out five batters in the contest and has improved her season total of strikeouts to 85 on the season. Schulte's strikeout total moves her to #8 all-time for a single season in the ECC record books.
The second game was much tighter, and the Falcons hit the ball well, but didn't score as much as Missouri Valley reduced their errors in the game from 7 in the first game to 2 in the second game. Eva Dawson got the victory pitching for the Falcons. Kaili Edler and Kristyn England both had three hits and two RBI each. Nikki Abbott, Maddie Greco and Lily Prichard were able to get two singles a piece to get runners on base multiple times.
The Falcons were planning to play Central Methodist University JV in a second double header during the trip , but the games were cancelled due to the forecast of possible snow later in the day.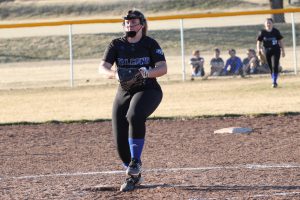 Eva Dawson, ECC Freshman Pitcher