It was a good day all around for the volleyball Falcons (2-0) as they were able to pick their first two wins on the season against tough opponents in Spoon River and Northeastern Oklahoma A&M.
ECC was a little slow out of the gate in the first match dropping the first set to the Spoon River Snappers, but they charged back to win three straight with a score line of 20-25, 25-13, 25-12, 25-20. Highlights on the day came from the super sophomore trio of Leinata Leakehe, Teena Lutui and Macy Morehead. Leakehe had 15 kills to lead the Falcons while Lutui had 7 and Morehead 6.  Olivia Spanley also had a good offensive game as well.  Moana Mo'ungaffi ended the third set with four aces serving 7 straight times to seal the deal as the Falcons were able to cruise to victory. ECC had good defensive stats as Trinity Clark and Isabella Allgeyer lead the Falcons in the backcourt.
The second match against NEO was a nail biter, but the Falcons were able to find their form when counted most in the last few points of each set. The Falcons had narrow margin of victory by scores of 26-24, 25-12 and 25-13. Leakehe was the category leader again in kills with 14. She was banging the ball of the opponents or the floor with her powerful swing most of the match. Morehead recorded 7 kills and helped ECC of to a great start on the season. ECC lost to NEO at the beginning of last season, so the Falcons were able get some revenge on the Lady Norse.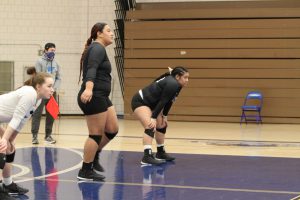 Leanata Leakehe and Moana Mo'ungaffi