The ECC Falcons (14-16) were able to take game one of a double header over NJCAA Region 16 rival North Central College with a 5-3 win playing error free baseball. It was Shane Kearbey's turn on the bump and he made the most of the opportunity going the distance getting the victory and striking out four batters in the process.
Hits came from Cam Leach, DeVon Jennings, Tyson Dent and Austin McKim. Jennings led the group with two RBI in the game. The team defense behind Kearbey's pitching led to the victory as the Falcons were out hit the game by the Pirates.
The second game of the day was a 9 inning back and forth battle. Billy Underwood had the start and pitched well striking out two batters and had three scoreless innings, but mistakes and timely hits bit the Falcons in the third inning surrendering 3 runs to the Pirates. ECC tied the score at 3-3 in the bottom of the third inning with RBI hits from Cam Leach, Luciano Terilli and a sacrifice fly by Nathan Turner. Austin McKim led the Falcon with two hits in the affair.
ECC stranded based loaded in the bottom of the 6th inning as this was the chance the Falcons needed timely hitting to break the game wide open, but  couldn't capitalize. North Central then scored one run in the 7th inning which proved to be the game winner at 4-3.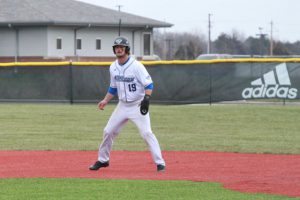 Cam Leach, Sophomore Outfielder