The Falcons (3-7) found the back of the net often at home against the Parkland College Cobras. The setting for the 4-0 win had East Central College playing on an almost perfect pitch with wonderful weather conditions. As the game progressed both East Central and Parkland had a few scoring opportunities in the first half.
Right as the second half started, ECC came out of the gates running hard by creating more chances to score. Jack Ridley opened the scoring with tuck in goal on an assist by Joao Pedro Louzada. It was Ridley's first goal on the day, but not his last. Miguel Gonzalez scored next for the Falcons on a lucky bounce as a Louzada shot rebounded into traffic and Gonzalez sent a header backwards into the net. Gonzalez wasn't finished as he scored in the 75th minute on an unassisted and uncontested bending corner kick into the back of the net to make it 3-0. Ridley iced the game with his second goal of the day on a Ben Mason assist in the 88th minute to seal the victory over the Cobras.
Defensively, Mario Vaca Pereira recorded the shutout in the nets with help from James Baxter, Julio Gonzalez, Damian Kunc and Mikey Ralston who collectively put together their best defensive performance of the season.
ECC will face conference and region opponent St. Louis Community College at home on Saturday, October 1.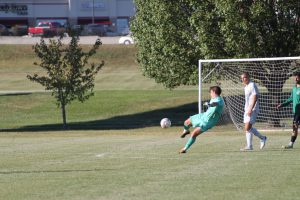 Mario Vaca Pereira in the net for the Falcons.