Another victory for ECC (8-4) has Coach Lisa Mathes- Peters' Falcons flying high as they conquered the Missouri Baptist University JV Spartans in four sets. The Falcons were in charge most of the match, just faltering once in a close third set by a two-point margin. ECC took three sets to one with a score line of 25-22, 25-17, 25-27 and 25-16.
It was a close match and a gritty performance all around by some of the offensive players registering good kill numbers: Mariah Vahlkamp 12, Jessi Kelly 11 and Symantha Fredrick 10.
The duo of Janice Steacy and Nicole Roper were the set up artists in the victory as they collected 15 and 14 assists respectively. A four set match going deep into each set had the defensive playing at an optimal level as well. Kaley Roper led the way with 34 digs and Mariah Vahlkamp was not far behind with 23 digs of her own.
The next stop for the Falcons is a trip across the Mississippi to head to Belleville, Illinois to face opposing teams: Kaskaskia College, Labette Community College, Southwestern Illinois College and Lewis & Clark Community College at the Southwestern Illinois College Tournament. The matches will start early on Friday with a 1:00p.m. start against the Labette Cardinals.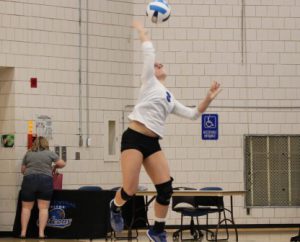 ECC Freshman Mariah Vahlkamp Serving