The East Central College Falcons (9-9-1) took one step closer to reaching a team goal for the season by knocking off the National Park College Nighthawks (Hot Springs, AR) 3-2 in the NJCAA Central District semifinal. The game was held at a neutral site on the Mineral Area College campus in Park Hills, MO. The Falcons did not waste much time scoring in the 16th minute as Jack Ridley tucked in a Jay Yule flick-on header into the box.
ECC controlled much of the possession and played well throughout the first half. The Falcons held National Park to three shots on goal in the entire match. One of those shots in the first half went off the inside of the post and into the back of the net to tie the game at 1-1.
Mitchell Foley finished a nice goal on a Ross Watson assist in the 33rd minute to elevate ECC to a 2-1 lead before halftime. After the Falcons took the field at half-time, a charged-up offense was clicking, and the Falcons kept control of the match. Joao Pedro Louzada scored on a repossession in the defensive third of the field and then broke into the box to beat the goalkeeper putting the Falcons up 3-1. ECC quickly attacked again, and Miguel Gonzalez hit a shot off the near post that would have put the game away for sure. The Nighthawks fought back and scored another goal with 15 minutes remaining to keep their hopes alive, but the Falcons ended the game in regulation.
East Central College will face Heartland Community College (Bloomington, IL) on Saturday, November 5 at 1:00 PM at Mineral Area College in Park Hills, MO. The winner will advance to the 2022 NJCAA Men's DII Soccer National Championship being held in Tucson, AZ November 14 – 18.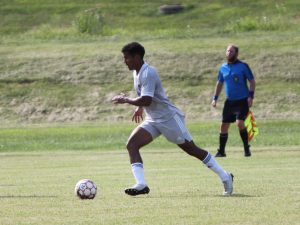 Joao Pedro Louzada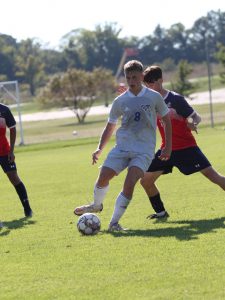 Jack Ridley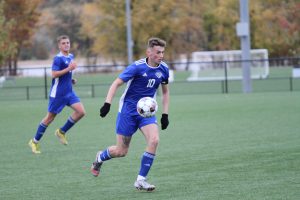 Mitchell Foley