The ECC Softball Falcons (10-12) were able to split a double header with the Moberly Area Community College Greyhounds. The scoreline had ECC winning the first game 4-3 and then getting blanked 7-0- in the second.
The first game was highlighted with the play from Taylor Hanger as she performed well offensively and defensively. ECC had a big rally in the third inning with singles by Sierra Spencer and Nicole Truitt. With two runners on base, Lexi Lewis came up to the plate and brought in two runs with a double. Then Hanger knocked a double of her own scoring Lewis.
Tied 3-3 heading into the bottom of the 7th inning, it was Hanger time again. Alexa Smalling started off with a single and advanced to second. Hanger brought her home with a long fly ball to centerfield, dropped by the centerfielder, for the walk-off 4-3 win.
ECC didn't have much in the tank in the second game as errors contributed to a Greyhound 7-0 win.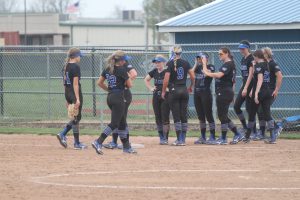 Team Celebration