The first victory in program history was achieved by the East Central College women's soccer team on April 14, 2021 by a 1-0 margin against the St. Charles Community College Cougars at the St. Louis Soccer Park in Fenton, MO.  Both sides were playing with no subs and it was a very even match-up.
The Falcons took the first shot on a long strike from Destiny Boehm, but the Cougars started the attacking throughout most of the match there after. Hannah Olive in goal along with Kenzie Townley, Samantha Starling, and Destiny Boehm defending kept the Cougars at bay and out of the net. ECC tried to mount scoring chances, but a lot of the balls ran fast on the turf out of bounds when attacks were attempted. In the second half, a string of passes sent through the middle of the field had Zoe Gaszak slotting a pass to Sommer Schneider for the game winner midway through the second half.
ECC weathered the storm on defense the rest of the way to bring home the first victory of the season and for the program. Commemorative team pictures will be distributed to all fans in attendance at the next home game on Wednesday, April 14 at 2PM against St. Louis Community College.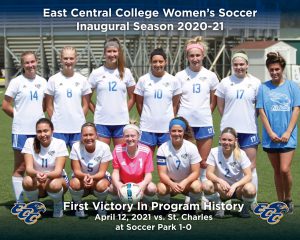 First Victory In Program History
East Central College 1  St. Charles Community College 0
April 12, 2021 St. Louis Soccer Park, Fenton, MO