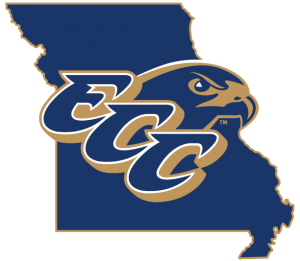 HISTORY OF THE EAST CENTRAL COLLEGE FALCON
The Falcon was adopted as the official athletic logo by East Central College and approved by the board of trustees in 2008. The logo replaced the thirty-eight year old Rebel, which never had an official board approved logo for visual representation.  The new 'Falcon' logo is intended to create brand awareness and communicate a first impression of professionalism to the viewer. East Central College's new mascot and logo was created by Jim Ward Designs, whose other creations include major university and college athletic logos throughout the country.
Choosing the 'Falcon' mascot was a decision made by a committee of administrators, faculty, staff, and students. Reasoning behind the choice of the 'Falcon' is derived from it being a majestic and streamlined bird known for extreme speed. The image of the East Central College Falcon is represented in the school colors of 'Royal Blue' and 'Vegas Gold' with corresponding accent colors.
The root of the word falcon comes from the Latin word falco, which means sickle, because the shape of a falcon's wing is similar in shape to a sickle or scythe. The falcon is a species of raptor known for its speed and ability to change direction during flight. The Peregrine Falcon has been recorded as the fastest moving animal on earth, flying at almost 200 miles per hour.  Falcons are also thought to have some of the best vision of all the raptors.
Falconry was a term given to the sport of using falcons or other birds of prey to hunt other animals. Roots of the sport of falconry can be traced to times of early recorded history, and was popular among medieval European royalty.  In local history, Missouri was once a nesting place for the Peregrine Falcon in the 1800's. Today, Peregrine Falcons are migrant visitors to the state in the spring and fall.
The fierce characteristics of the falcon may evoke fear into opponents in athletic competition, but the mascot version of the falcon is a lovable and huggable character affectionately named 'Franklin the Falcon', named for Franklin County, where East Central College is located.